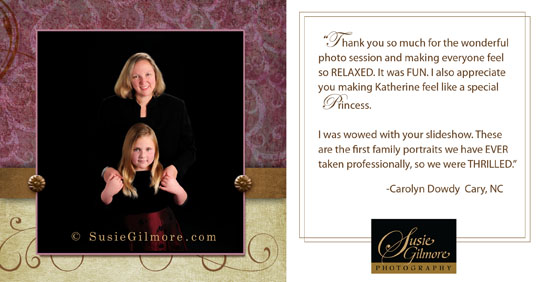 "What children take from us, they give. We become people who feel more deeply, question more deeply, and love more deeply." ~ Sonia Taitz
I had the privilege of photographing the Dowdy family a few weeks ago (Keith, Carolyn, Alex 13, Andrew 11, Katherine 8 and Connor 3). We had such a fun session and I really enjoyed getting to know everyone better. My favorite question to ask the kids what they wanted to be when they grew up.
I am so pleased with the heartwarming images of their family, individuals and groups. Here is an image of Carolyn and Katherine. Mothers and daughters have such special bonds and I love this image. Their tender hand clasp speaks volumes and just stops me in my tracks. I just want to keep admiring the emotion and beauty of the image. It will be hanging at Wake Dental Care in Cary, NC soon.
This is what Carolyn had to say about her session at Susie Gilmore Photography in Raleigh, NC.
"Thank you so much for the wonderful photo session and making everyone feel so RELAXED. It was FUN. I also appreciate you making Katherine feel like a special PRINCESS. I was wowed with your slideshow. These are the FIRST family portraits we have EVER taken professionally, so we were THRILLED."
– Carolyn Dowdy Cary, NC
http://www.SusieGilmore.com 919-662-5541