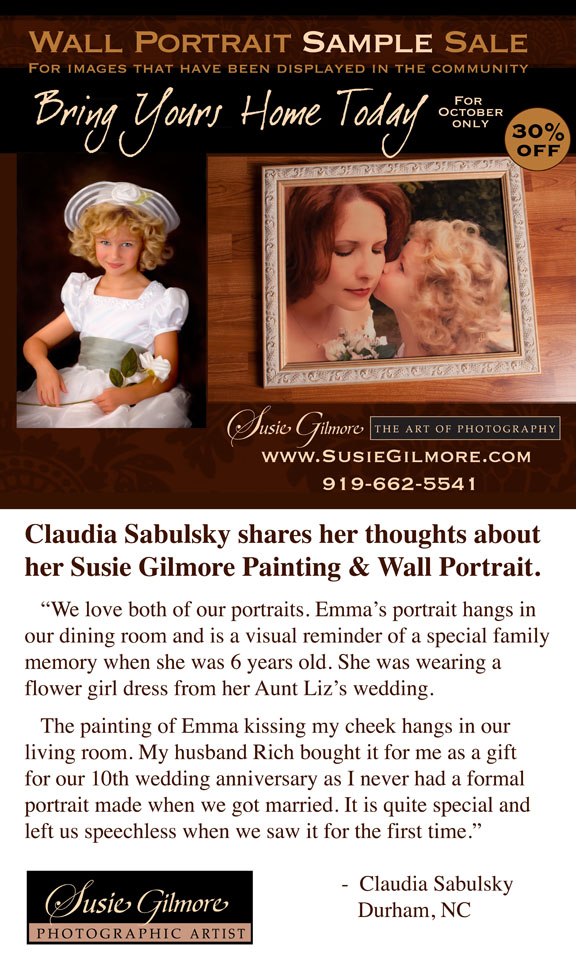 Wall Portrait Sample Sale for images that have been displayed in the community. Bring your Susie Gilmore Painting or Wall Portrait home today. For October only, receive 30% off. Hurry before the best frames are gone. Susie Gilmore Photography 919-662-5541 http://www.SusieGilmore.com susiegilmore@usa.net
Claudia Sabulsky shares her thoughts about her Susie Gilmore Painting and Wall Portrait.
We love both of our portraits. My daughter Emma's portrait hangs in our dining room and is a visual reminder of a special family memory when she was six years old. She was wearing a flower girl dress from her Aunt Liz's wedding.
The Painting of Emma kissing my cheek hangs in our living room. My husband Rich bought it for me as a gift for our 10th wedding anniversary as I never had a formal portrait made when we got married. It is quite special and left us speechless when we saw it for the first time.
– Claudia Sabulsky Durham,NC