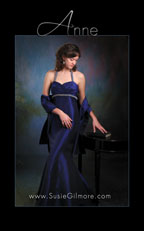 Elegant, classic, timeless photography for high school Seniors. Meet gorgeous Anne. She and her mom came to Susie Gilmore Photography in Raleigh, NC because they wanted something really special for Anne's Senior pictures.
Anne has beautiful blue eyes and curly hair. She was such a natural in front of the camera. This portrait is entitled "Reflections". I love the grace and elegance of her hands as she touches her book, Jane Eyre. Anne's lovely profile reminded her mom of the painting of the princess in the movie, "Ever After."
We had a tough time narrowing down her favorite images today because there were SO MANY good ones. Anne enjoys reading, acting and playing the piano.
Susie is available to create a personal work of art for your Senior. Hurry, sessions are limited. http://www.SusieGilmore.com/ 919-662-5541