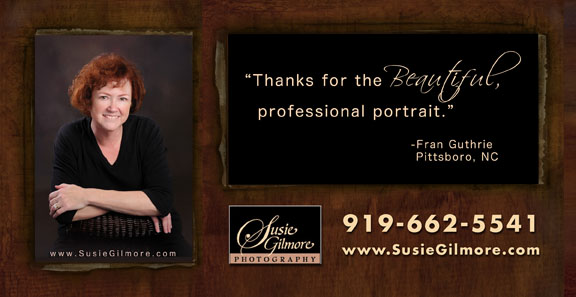 Fran has been coming to Susie Gilmore Photography for over five years with her daughter Rachel Priestley. I immediately adopted her as my Nana. She is a such a supportive, caring, fun, witty, and loving mother and grandmother. It's always so much fun to visit with her.
Photography is an amazing medium, it has the power to help you remember all the little details of your loved ones, and brings you back to the very moment when the photograph was captured.  I love photographing people so much that if you come to my studio…. even just to help dress your grandchildren…. I am GOING to get you in a portrait or two.
Here is an Executive Portrait I created of Nana when she was helping out in Ellie's 1 year session. It is such a lovely image of her. It shows her grace, beauty and fun personality.
"Thanks for the beautiful, professional portrait. You're the best! A visit with you is such a gift!"  – Fran Guthrie   Pittsboro, NC