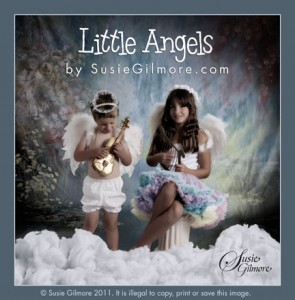 Raleigh, NC Photographer Susie Gilmore introduces "Little Angels" Photography Sessions. (For ages 6 months- age 12)
This perfectly color tinted canvas wrap will hang beautifully in your children's bedrooms. We supply the wings, clouds, instruments & tutus and you supply the angel. My children are featured in this portrait and we had so much fun capturing this.
Hurry, sessions are limited. 919-662-5541. http://www.SusieGilmore.com/
It is illegal to copy print or save this image without permission from Susie Gilmore 919-662-5541.