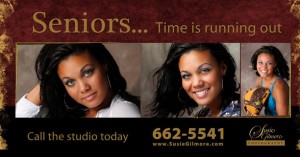 Nadia chose a Senior Fashion Photography Session in the Studio and we had so much fun with lots of outfit changes and poses, a bubble machine, and a fan to blow her hair. She brought dresses, casual outfits and her softball glove for a few athletic images.  
School is in full swing and time is running out for you to schedule your Senior's Photography Session. Your Senior will be leaving the nest before you know it and you'll treasure the portraits from this important session.
Each image is perfectly retouched, so you'll have no worries if a blemish appears on the day of the session.
The DVD and Facebook slideshow is a must have… it's ALL YOUR SENIOR'S IMAGES SET TO MUSIC. 
You can choose a studio session, location session or a combination session with both. Contact Susie at 662-5541 to get on our schedule.
Hurry, sessions are limited.