Photography Testimonials
We asked a few of our clients to share about their recent experience with Susie Gilmore Photography and here is what they said: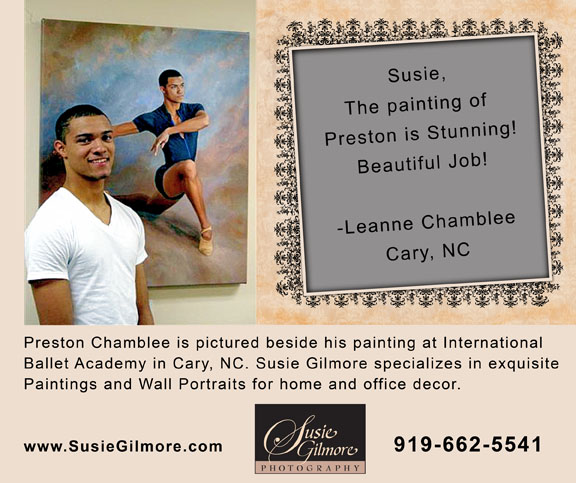 Preston Chamblee is pictured beside his painting at International Ballet Academy in Cary, NC. "Susie, the painting of Preston is stunning! Beautiful job!    – Leanne Chamblee Cary, NC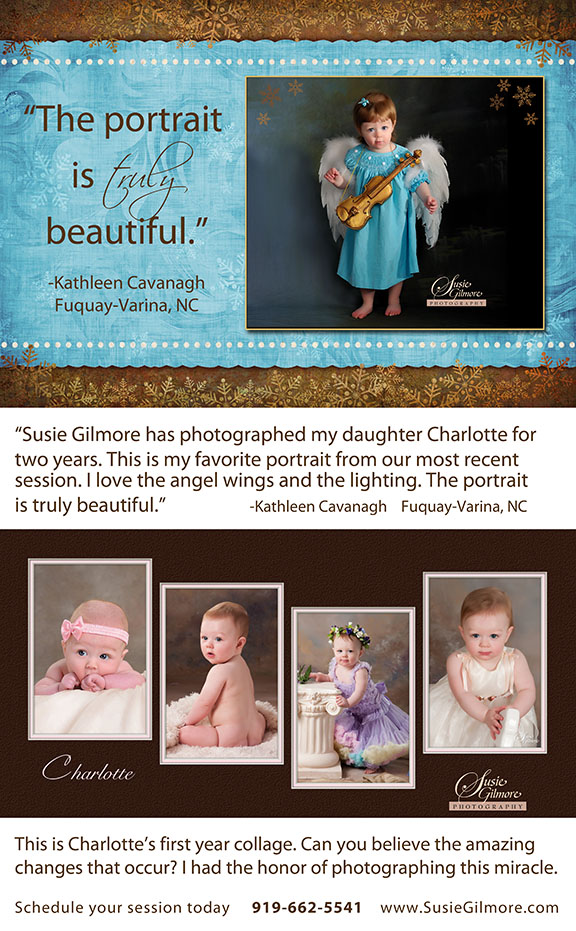 "Susie Gilmore has photographed my daughter Charlotte for two years. This is my favorite portrait from our most recent session. I love the angel wings and the lighting. The portrait is truly beautiful."    -Kathleen Cavanagh  Fuquay-Varina, NC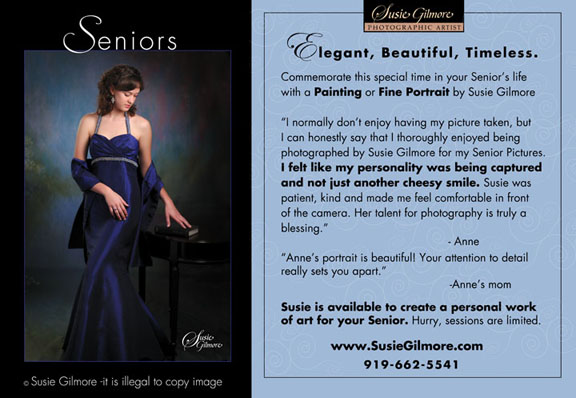 "I normally don't enjoy having my picture taken, but I can honestly say that I thoroughly enjoyed being photographed by Susie Gilmore for my Senior Pictures. I felt like my personality was being captured and not just another cheesy smile. Susie was patient, kind and made me feel comfortable in front of the camera. Her talent for photography is truly a blessing." – Anne M.  Cary, NC
"Anne's portrait is beautiful! Your attention to detail really sets you apart." – Marice M. Cary, NC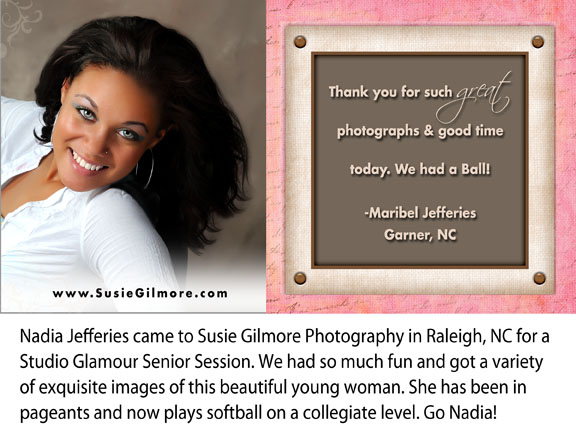 Nadia Jefferies came to Susie Gilmore Photography in Raleigh, NC for a Studio Glamour Senior Session. We had so much fun and got a variety of exquisite images of this beautiful young woman. She has been in pageants and now plays softball on a collegiate level. Go Nadia!
"Thank you for such great photographs and good time today. We had a ball!"  You are so talented Susie and you have a sweet spirit. What a blessing to have met you and had the privilege to have you photograph my baby and me. Loved it!" – Maribel Jefferies  Garner, NC  (Nadia's mom)
Susie specializes in creating photographic works of art of your loved ones to enhance your home and office.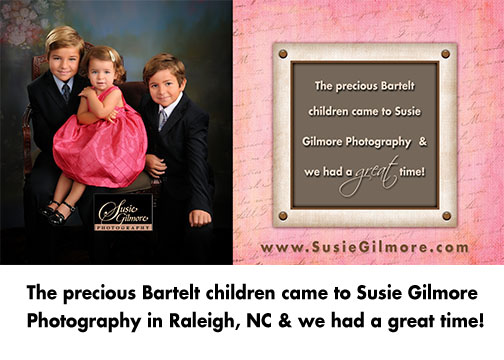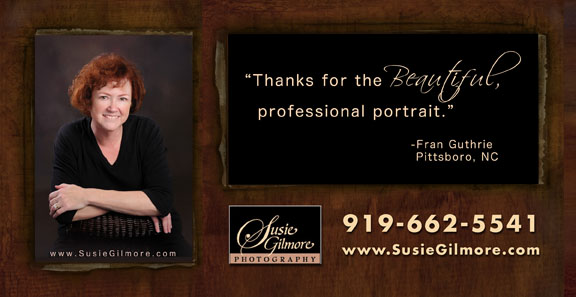 "Thanks for the beautiful, professional portrait. You're the best! A visit with you is such a gift!"   -Fran Guthrie   Pittsboro, NC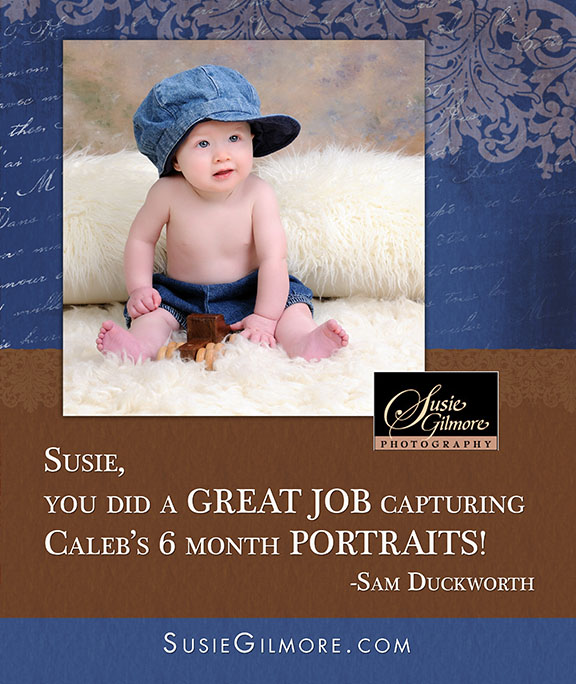 "Thank you so much for the wonderful photo session and making everyone feel so relaxed. It was fun. I also appreciate you making Katherine feel like a special Princess. I was wowed with your slideshow. These are the FIRST family portraits we have EVER taken professionally, so we were THRILLED."
-Carolyn Dowdy       Cary, NC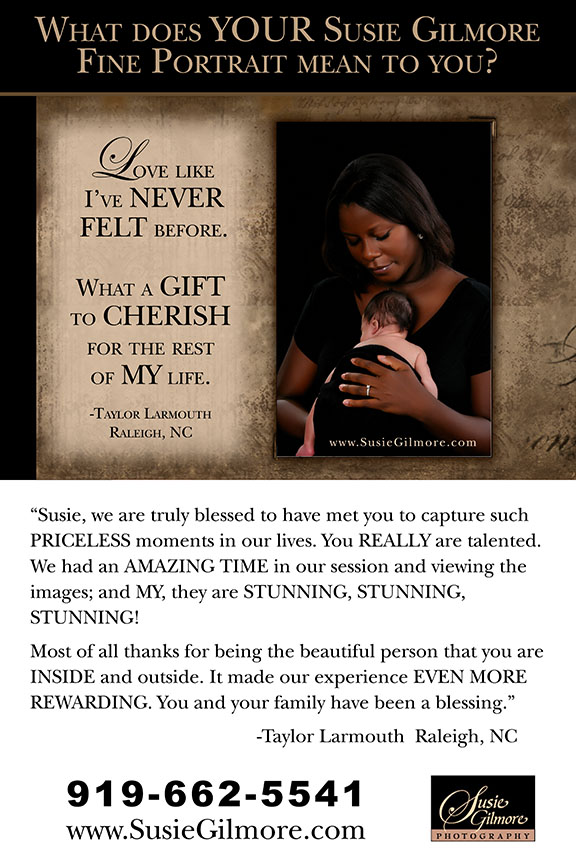 "Susie, we are truly blessed to have met you to capture such PRICELESS moments in our lives. You REALLY are talented. We had an AMAZING TIME in our session and viewing the images; and MY, they are STUNNING, STUNNING, STUNNING! Most of all thanks for being the beautiful person that you are INSIDE and outside. It made our experience EVEN MORE REWARDING. You and your family have been a blessing."             -Taylor Larmouth Raleigh, NC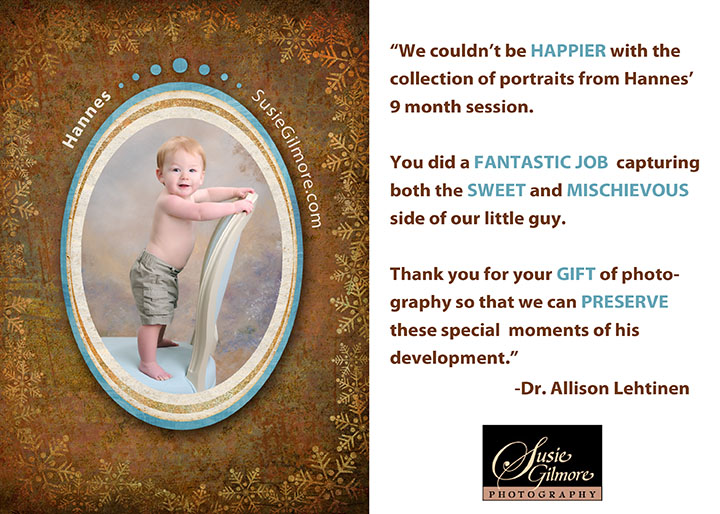 "Susie, We couldn't be HAPPIER with the collection of portraits form Hannes' 9 month session. You did a FANTASTIC JOB capturing both the SWEET and MISCHIEVOUS side of our little guy. Thank you for your GIFT of photography so that we can PRESERVE these special moments of his development."
– Dr. Allison Lehtinen
"I was overwhelmed with emotions when I first saw my wall portrait because my children's personalities were captured in the portrait. It is displayed in my foyer and everyone who enters my home comments on its beauty. It brings a smile to my face every time I look at it. If my house was burning, it would be the first thing I would grab after the children. You cannot put a value on how well Susie captured my children's personalities."
-Lynn Heathcote Holly Springs, NC
"The first time I saw the portraits, they brought tears to my eyes. It's not everyday that you capture special memories like this of your children." -Dawn Bannister Raleigh, NC
"I highly recommend Susie Gilmore to anyone who is looking for quality portraits. She loves children and knows exactly what to do to make my daughter look absolutely beautiful. The hardest part is narrowing down my favorites because they are all so good." -Arlene Francis Apex, NC
"Susie was such a wonderful, patient, and professional person to work with. She gave suggestions for attire, locations and props. We didn't feel pressured or rushed. We now have beautiful pictures that have captured the personality and innocense of our four-year-old." -Kellie Auerweck Holly Springs, NC
"Our beach photos are the ones I am most proud of. The beach seemed to capture a natural beauty in my family that I have not been able to see in conventional studio photos. I was skeptical at first, but pleasantly surprised." -Craig Autry Clinton, NC
"You are an amazing photographer. Thank you for your hard work." -Jessica Augustine Apex, NC
"My family really enjoyed working with Susie. She is very patient and does a great job capturing expressions. I absolutely love our portraits!" -Claudia Sabulsky Apex,NC
"I fell in love with the portraits as soon as I saw them. Susie has a great eye for detail and works really well with children." -Sandy Joyner Holly Springs, NC
"My portraits are beautiful! I love them all. Thank you so much for the great work. You are a talented lady!" -Christy Teague Cary, NC
"Susie is very patient when working with young children. We had a lot of fun and the pictures were amazing!" -Yvonne King Cary, NC
"My bridal portrait is my most prized possession, I love it so much and feel beautiful when I look at it. Thank you so much." -Jessica Rothstein Goldsboro, NC
"When I first saw the images at the slideshow I was amazed because you had captured the "fun" and "feelings" of the family in an amazing way. The session was FUN. I expected something "stuffy", instead it was a great experience. You welcome folks into your family during this process and that is extremely special." -Linda McNeil Raleigh,NC
"We love our portraits! Thank you for using the gifts God has given you to bring joy to others." -Carol Colborn Holly Springs, NC
Thanks again for making our session a wonderful experience for us. We loved the photos and had such a difficult time deciding. You are an amazing photographer. You captured the real Michael and we now have a beautiful portrait of our family.
-Jane Flanagan Holly Springs, NC
[singlepic id=372 w=320 h=240 float=none]